M02ODL Introduction to Academic Practice in Higher Education

This module focuses upon teaching excellence, learning and effective assessment through the continued development of the participant's own professional practice. The aim is to enable participants to design, deliver and evaluate effective learning experiences, understand the processes of quality assurance, quality enhancement and standards and be able to provide effective feedback. Participants' undertake a critical appraisal of their teaching practice based upon the collection of evidence and formulate a development plan. This critical appraisal encourages participants to enhance practice and in turn engage with the enhancement of learning experiences for their students'. Engagement in reflective evaluation enables participants to draw together findings gathered throughout this module forming an overall picture of their practice and underpinning this with evidence, research and relevant literature. The module prepares participants for Associate Fellowship of the HEA as they join a community of practice delivering modern-day higher education experiences across the world.
Essential Reading

6 items

Recommended Reading

13 items
CC-Zero Public Domain Dedication
Profile Required
Reading intentions and notes are stored against your user profile. Please create a profile to use this feature.
My notes
You must be logged in to add a note
What are item notes?
You can use item notes to make personal notes on any of your reading items. Notes are private to you and will not be shown to other users.
You can review your item notes from the list, the item page or from your profile page.
---
How do I create an item note?
To make notes, first you must be logged in. Once logged in, simply click Add note? next to the list item you wish to make notes on. You can also make notes at the bottom of every item's detail page.
Your note will be saved automatically as you type.
Have you read this?
You must be logged in to set a reading intention
What are reading intentions?
Setting up reading intentions help you organise your course reading. It makes it easy to scan through your lists and keep track of progress. Here's an example of what they look like: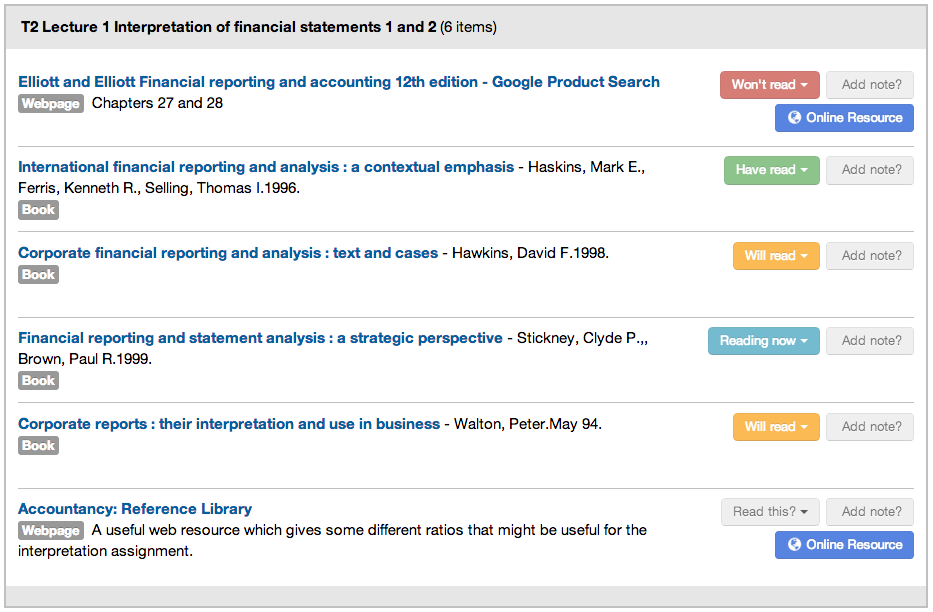 Your reading intentions are also stored in your profile for future reference.
---
How do I set a reading intention
To set a reading intention, first you must be logged in. Once logged in, click Read this? next to the list item you wish to set a reading intention for.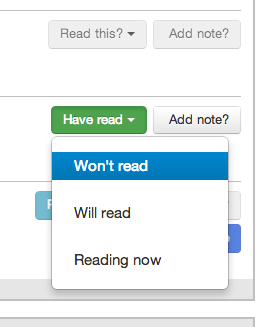 You can also set the reading intention from every item's detail page.